Both Randy and Jessica have been very successful in the show ring and are the first husband and wife to make the Limited Open finals at the 2008 NRHA Futurity.
---
Randy Dooley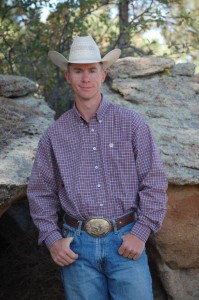 Randy started his reining career working with NRHA professional trainer Todd Arvidson, where he started colts and showed futurity horses. Randy has also worked for multiple NRHA Futurity Finalist Troy Heikes. He is a graduate of Northeastern Junior College and has a degree in equine management.
NRHA LTE $45,000.00+
2012 WSRHA Open & Limited Open Futurity Champion
2012 Utah Classic Derby Limited Open Derby Champion
2011 APHA World  Show Junior Reining Top Five
2011 APHA World Show Reining Challenge Reserve World Champion
2011 Sagebrush Slide Open Derby Reserve Champion
2010 Cactus Classic Limited Open Champion / Intermediate Open Reserve Champion
2010 Summer Slide Limited Open CO-Champion on Conquistador Star
2010 Sagebrush Slide Open Derby CO-Champion on Chickee Conquistador
2010 Black Hawk Derby Open & Limited Open Champion on Chickee Conquistador
2009 IRHA Limited Open/Rookie Professional & Mountain Region
2009 Affiliate Finals Limited Open/Rookie Professional Champion
2009 WSRHA Limited Open Derby Champion
2009 Mile High Level 1 Derby Champion
2009 Rocky Mountain Summer Slide Rookie Professional Champion
2008 NRHA Futurity Finalist
2008 WSRHA Limited Open Futurity Champion
2008 Rocky Mountain Summer Slide Intermediate Open Champion
2008 Rocky Mountain Summer Slide Futurity Finalist
2008 IRHA Limited Open Futurity Champion
2007 Mile High Limited Open Derby Champion
2007 WSRHA Limited Open Derby Champion
2007 Clayton Woosley Hall of Fame Limited Open Derby Champion
2005 Sunflower Slide Limited Open Futurity Champion
2004 North American Affiliate Championship Limited Open Champion
---
Jessica Dooley
Jessica worked as an assistant trainer for NRHA Open Futurity Champion and NRHA Hall of Famer Doug Milholland for 3 years. She has also worked for the Cottonwood Colt Company as an assistant trainer to Eduardo Ribero. Jessica is a graduate from the John Lyons Certification Program.
NRHA LTE $6800.00+
2009 IRHA Limited Open / Rookie Professional Champion
2009 Mountain Affiliate Finals Limited Open / Rookie Professional Champion
2008 NRHA Limited Open Futurity Finalist
2008 WSRHA Limited Open Futurity Champion